An alternative arts development programme
If the city were a commons what would it look like, taste like, sound like, feel like, and smell like? How would artists and other creative individuals develop their skills and hone their practice?
Through a series of artists talks, workshops, field trips, residencies, and reading groups, On Site Projects offers the provocation that the city is a commons – if only we dare.
Exploring the relationship between art and society the programme offers a year-long critical framework to share, renew and develop individual and collective art practices in an engaging and supportive environment.
Everyone is an artist – so everyone is welcome.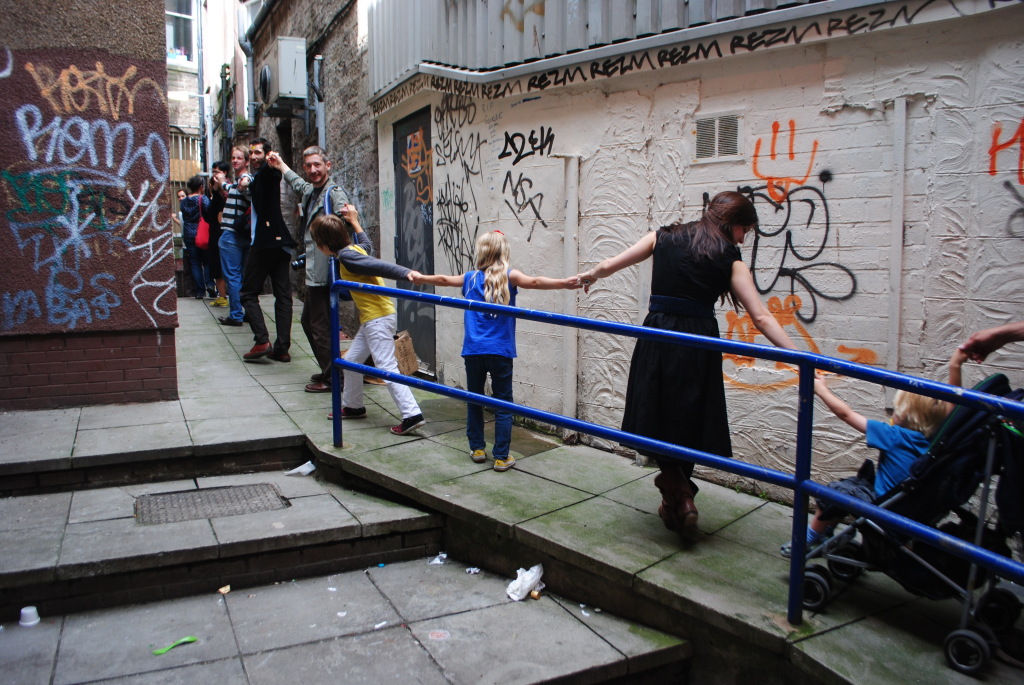 <><><>
WHEN: Commencing on 30th September 2014 and from thereon fortnightly between 7-10pm.
WHERE: Roseangle Arts Cafe, 132 Perth Road, Dundee City 1 4JW.
NOTE: The venue and regularity of meetings are subject to change. Please see below for updated dates and details.
<><><>
Programme details (developed in conversation with participants):
30th September: Introduction to the programme and to one another – facilitated by Jonathan Baxter.
14th October: Tara Chaloner, Lesley Kamel, Duncan McLaren, James Murphy, and Gerry O'Brien will introduce examples of artworks, theory, and poetry that shed light on the commons theme: expect PowerPoint artworks, Common Weal conversations, gossip about philosophers, insights relating to Paul Noble's Hobson Newtown, and the line: 'Petals, on a wet, black bough.'
28th October: Ellie Harrison will discuss how her art practice has developed in response to climate change and what bearing this has upon her understanding of the commons. Holly Keasey, from the Generator Committee, will give a talk at Generator about their latest exhibition, VIEW, and how Generator provides an artists' commons in the city. (The after-talk sauna is optional.)
11th November: Gemma Lawrence will introduce her work with Creative Carbon Scotland and explore the relationship between participatory art practices and sustainable development. Gemma's talk will be followed by a workshop exploring participatory decision-making and asset mapping.
CHANGE TO SCHEDULE – SATURDAY 6th December 11am – 4pm: Karen Spy, Jonathan Baxter, Gerry O'Brien, and Tom Wallace will explore the related themes of 'home' and 'education' as they relate to the commons and contemporary art practices.
9th December: Reflecting on discussions to date, this week we'll be co-devising the 2015 programme. This session will be framed by three questions: how big is here? how long is now? who is here now? (Download David Hayley's article for a discussion of these 'ennobling questions'.)
COMMONS HOLIDAY
Recommence in January 2015.
<><><>
If the City were a Commons is supported by The Esmee Fairbairn Foundation and The Foyle Foundation as part of The Art of Living Dangerously, a year-long programme offered by Fleet Collective. If you'd like to learn more about that programme please contact Fleet Collective directly.
<><><>