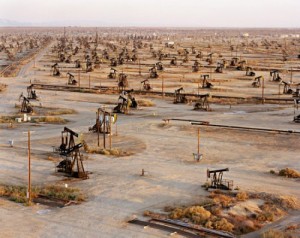 Exhibition until July 3rd; Symposium on May 6th and 7th
The images of the exhibition Edward Burtynsky: Oil explore the hotly-debated effects of oil extraction and our international dependency on the substance. The symposium in May brings together top scientific and arts industry experts for two days of discussion about essential issues of oil, planetary sustainability, and the energy options available to us, from both the scientific and aesthetic points of view.
Program of the Symposium
Friday May 6, 7:00 p.m. –  How Humanity Became a Rogue. The Growing Economics and the Shrinking Ecosphere: Keynote by William Rees, Professor, School of Community and Regional Planning, University of British Columbia, Originator and co-developer of ecological footprint analysis.
8:00 p.m. – Topography and Spectacle: Contextualizing the Landscapes of Edward Burtynsky: Keynote by David Harris, Associate Professor, School of Image Arts, Ryerson University, Curator and Writer.
9:00 p.m. – Manufactured Landscapes, Dir. Jennifer Baichwal, 2006 (90 min): A striking documentary that follows Edward Burtynsky through China, as he shoots the evidence and effects of that country's massive industrial revolution.
Saturday May 7, 10:00 a.m. – Interview on Stage: Edward Burtynsky Discusses His Groundbreaking Photographic Work With Richard Rhodes, Editor of Canadian Art.
11:00 a.m. – Kicking the Fossil Fuel Habit. Possibility and Necessity: Keynote by Tom Rand, Director of VCi Green Funds, Lead Advisor at the MaRS Discovery District. The lecture is based on his highly popular book of 2010 Kick the Fossil Fuel Habit: 10 Clean Technologies to Save Our World.
2:00 p.m. – Innovations for the Future. The Final Decades of Oil and Beyond: Scientific Panel Discussion with Lisa Margonelli (Director of the New America Foundation Energy Policy Initiative, Washington), Tom Rand, William Rees, Richard Sears (Visiting Scientist at the MIT Energy Initiative and the Laboratory for Information and Decision Systems, former Executive at Shell), David Naylor(Professor, Department of Mechanical & Industrial Engineering, Ryerson University). Moderator: Edward Burtynsky
4:00 p.m. – Photography as Intervention: Aesthetics Panel Discussion with Sarah Milroy (Art Critic and Writer, former Art Critic at the Globe and Mail), Michael Mitchell (Photographer, Filmmaker and Writer), Paul Roth (Executive Director of The Richard Avedon Foundation, New York and Curator of the Edward Burtynsky: Oil exhibition at the Corcoran Gallery of Art, Washington, D.C.), Robert Burley (Photographer, Professor, School of Image Arts, Ryerson University). Moderator: Eleanor Wachtel (Writer and Host of CBC's "Writers and Company")
The admission is free. For more information visit the website: ryersongallery.ca or call: 416-979-5000 x6843.
For the whole schedule and more information about the speakers read here.
Partly reposted from www.projetcoal.org