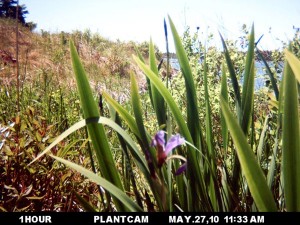 Please join Aviva Rahmani for the launch of two new films, Desecration and Resurrection. The premiere is part of the eartotheearth festival www.emfproductions.org
As the British Petroleum oil spill unfolded in the Gulf of Mexico, a restored intertidal salt marsh in the Gulf of Maine was coming back to life.
Performing Ecology, a Vision for the Gulf of Mexico.
These two six minute films will be shown in conjunction with a 45 minute workshop on Trigger Point Theory, Aviva Rahmani's art and science initiative for land and water restoration, developed from the Ghost Nets (ghostnets.com) project.
Time: 7: PM October 22, 2010
Cost: donation
Place: Gallery 307, Electronic Music Foundation, Suite 1402, 307 Seventh Avenue, NYC
This work is a joint venue launch, as part of Gulf to Gulf, a sponsored project of the New York Foundation for the Arts (NYFA[1]).
"Warm Skies Over the Louisiana Bayou Seen From a Moving Train Window," a still from Gulf to Gulf, will be in "SHFT New York," curated by Edie Kahula Pereira
Place: 112 Greene Street, NYC
Time: Opening October 21, showing October 20-25, 2010
Resurrection, will be shown in the Urban Ecology International Congress, Cracks in the Concrete Jungle:
New Perspectives on Urban Ecology Berlin, Germany October 22-24, 2010 www.stadtoekologie-berlin.de and in the WEAD ecoart video salon
Time: 4: PM November 13, 2010
Place: Berkeley Art Center, Berkeley, California
and
Time: Wednesday 7: PM November 17, 2010
Place: Intersection for the Arts 5M Gallery, San Francisco, California with text read from Rahmani's recent writings on the spiritual in ecological art practice.
Additional web launches of Resurrection will take place with links from ecoartspace,org, the Arts & Healing Network www.artheals.org and EcoArt South Florida www.ecoartsofla.org
After the launch, these films will be viewable on avivarahmani.com. Please feel free to access, download, share and credit this new work under the Creative Commons license.
An Earth Housekeeping Manual is also available on amazon.com:
What the World Needs is a Good Housekeeper, Aviva Rahmani, 2010.
Please contact Aviva Rahmani at ghostnets@ghostnets.com for further information.