6:00pm – 8:00pm
at Brisbane City Hall
50 Park Place, Brisbane, CA 94005
BRISBANE, CALIFORNIA ADOPTS A BILL OF RIGHTS FOR SEEDS
AND DEBUTS ART EXHIBIT, THE LAW OF SEEDS, TO COMMEMORATE.
Activist artist Beth Grossman is calling attention to the genetically engineered seeds that are having a huge impact on food sources worldwide. Brisbane, California has decided to act locally and think globally by adopting a BILL OF SEED RIGHTS Proclamation and to commemorate it with an art exhibit.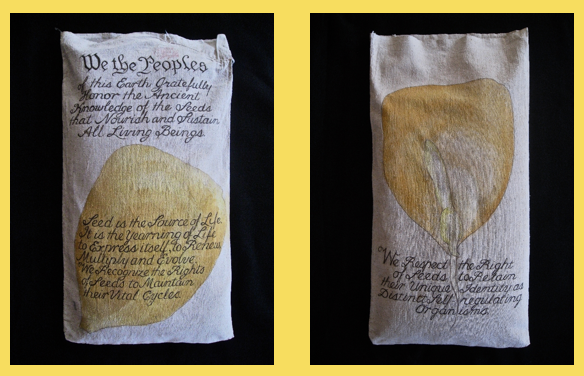 Grossman is using this art project to call attention to the necessity of national and international "seed law" to protect plant bio-diversity and the rights of individuals to save seed, keeping them in the public domain. She has compiled a Bill of Rights for Seeds and is sharing it as a visual art exhibit that will debut at Brisbane City Hall between March 4th – April 30th, 2014.
She enlisted Brisbane city government to become the first U.S. city to adopt her Bill of Rights for Seeds. This Proclamation was presented by Mayor Clarke Conway at a public reception on Wednesday, March 19th, 2014.
Grossman was inspired by the constitutions of Bolivia and Ecuador, each of which includes Articles on the Rights of Nature. She compiled a Bill of Rights specifically for seeds and then scribed them with a quill pen on ten vintage seed bags that are also painted with images of the stages of germinating corn from seed to mature plant.
The Law of Seeds is a traveling art exhibit that will be featured at botanical gardens, city halls, libraries and natural history museums. Artist Beth Grossman invites the public to appreciate the wonders of seeds and engage in a discussion on the importance of protecting this precious source of our food chain. "The Law of Seeds is about our accountability to future generations and ensuring that nature's seed cycle will carry on."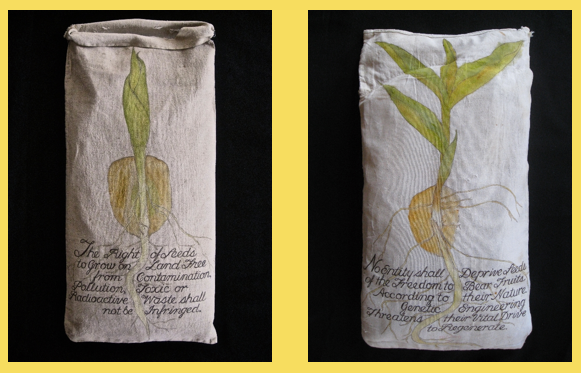 Beth Grossman uses art and participatory performance as a creative force to stimulate conversation and focus attention on the environment, interpretation of history and civic engagement – all aimed at raising awareness, building community and encouraging public participation. Based in Brisbane, California, she has artistically collaborated internationally with individuals, communities, corporations, non-profits and museums.www.bethgrossman.com
The City of Brisbane, nestled in the slopes of San Bruno Mountain, saw in its first settlers a self-determined and independent spirit, and because of its close proximity to the Mountain and the Bay, the City was and continues to be a community that is keenly aware of the finite nature of resources, carefully managing the present to protect the future. www.brisbaneca.org