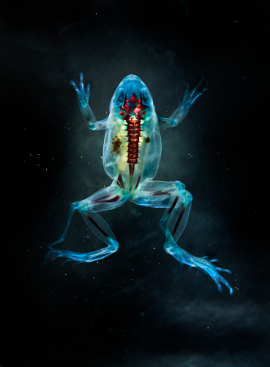 Brandon Ballengée will be exhibiting and talking in Germany from late May 2014 onwards.  He will be in Berlin and in Lüneburg:
In Berlin
Exhibition at  Art Laboratory Berlin: [macro]biologies II: organisms  (Suzanne Anker, Brandon Ballengée, Maja Smrekar) // 31 May- 20 July, 2014
Vernissage: 30 May, 2014, 20:00
Artist and curators talk: 1 June 2014, 15:00
More information here
In Lüneburg
Praeter Naturam: Beyond Nature  (Lecture)
Tuesday 3 June 2014, 12:15-13:45
Leuphana University (Scharnhorststr. 1, building 3) Room C 3.121
The lecture will be followed by an open discussion with Brandon Ballengée, moderated by Dr. Sacha Kagan (Leuphana University, ISKO / Cultura21).
Biologist and artist, Brandon Ballengée creates transdisciplinary artworks inspired by his ecological field and laboratory research into amphibians, birds, fish and insect species found in today's 'preternatural' environments. Ballengée uses art in order to realize scientific research, and science in order to realize art. He is a systemic practitioner and an "ecosystem activist" who stresses public involvement through participatory biology, field investigations and laboratory programs. Since 1996, Ballengée's primary scientific research and much of his art has focused on the occurrence of developmental deformities and population declines among amphibians.
Brandon Ballengée's work has been exhibited internationally, incl. solo exhibitions at Museum Het Domein (Sittard, Netherlands: 2014), the Schuylkill Center for Environmental Education (Philadelphia, USA: 2013), Longue Vue House and Gardens (New Orleans, USA; 2011); Peabody Museum of Natural History (Yale University, New Haven, USA: 2007); and a.o. Documenta 13 (Germany: 2012); 3rd Moscow Biennale (Russia: 2009); Venice Biennale (Italy: 2005); Geumgang Nature Art Biennale (South Korea: 2004). In 2011 he was awarded a conservation leadership fellowship from the National Audubon Society's TogetherGreen Program (USA).
The lecture in Lüneburg is organised by the Innovation Incubator and the Centre for Digital Cultures at Leuphana University of Lüneburg, in collaboration with the Leuphana Arts Program and Cultura21. The Innovation Incubator Lüneburg is an EU major project supported by the European Regional Development Fund and the federal state of Lower Saxony.

Further information at : www.brandonballengee.com