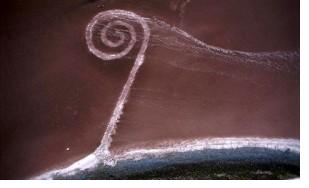 Too Shallow for Diving: the 21st Century Is Treading Water
The "Land" artists in the 1970s as well as artists like Joseph Beuys and Agnes Denes in the 1980s paved the way for the ecological artists today and for art to act as an agent for social change.
Today environmental art includes various approaches and issues. Artists employ urban landscapes as well as other environments in order to serve as a platform to show their concepts to their audience. Sustainability has found its way to art and culture and artists see new ways of enacting change and of collaborating e.g. with scientists.
The exhibition Too Shallow for Diving: the 21st Century Is Treading Water contributed to this process and the artists' desire for social engagement. This wide-ranging show supported this trend, which has been the theme of numerous films, writings and exhibitions over the past decade.
Too Shallow for Diving put the focus on problems surrounding water and its impact on our natural world, human health and public welfare. The Curator Carolyn Speranza stated, that "…the sixteen artists aim to provide viewers with new insights and perspectives about our existing world and the enormity of the dilemma facing our water supply."
More information about the artists and the exhibition can be found in a review in the Artes Magazine here.