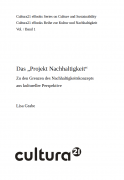 Vol 1: Lisa Grabe: Das "Projekt Nachhaltigkeit". Zu den Grenzen des Nachhaltigkeitskonzepts aus kultureller Perspektive, Lüneburg: 2010.
Dokument (PDF)
The Cultura21 eBooks Series on Culture and Sustainability presents findings from inter- and trans-disciplinary perspectives in research and practice. The eBooks are published openly online by Cultura21 Institut e.V. in order to support broad dissemination and to stimulate further debates in civil society and further action-research in the field.
All volumes in the series are available freely at: http://magazin.cultura21.de/piazza/texte and here on the platform.