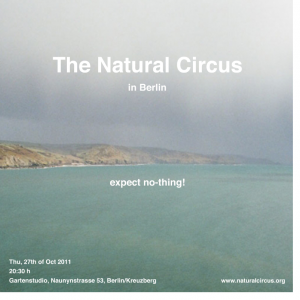 Berlin
27th of October
On the 27th of October The National Circus takes place in the Gartenstudio in Berlin. On this occasion poets and storytellers of all kind meet in order to celebrate the  'being in the moment' and the beauty of the ephemeral. In this way you are able to find the foundation of the evolution and sustainability of life and of every interaction between ecosystems: It all emerges from a moment. The project's aim is to generate a change of thought: We should see ourselves as part of the environment and not distinct from it. Following this, the perceivers are supposed to be part of the Natural Circus rather than only witnesses.
The event starts on the 27th of October at 20.30 in the Naunynstraße 53 in Berlin.
The initiator of the project is poet and artist Lars Schmidt, who deals with ecological thinking and sustainable living. He facilitates ways of thought and expression that work with nature instead of destroying it.
The musician and composer David Rothenberg accompanies him in the project. His work includes music with whales, birds and artists like Glen Velez. Furthermore he is a philosopher-naturalist and the author of several books, including "Why birds sing".
For further information see: http://naturalcircus.org/