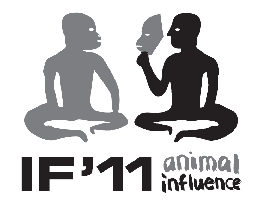 Vancouver, BC
17th to 19th of November 2011
From the 17th  until the 19th of  November 2011 you are able to visit the conference "Interactive Futures (IF)" in Vancouver, BC. The conference includes exhibitions, performances and screenings as well as a workshop with well-known speakers like the ethologist Marc Bekoff and new media artist Lisa Jevbratt. The theme of the conference is "Animal Influence", as research referring to animal behavior, cognition, creativity and consciousness increased in the recent years and brought forth the idea of animals having emotional and cognitive lives. The focus is put on the research results on animal-human relations and how they effect new media artists in their perception and work with other species, and new ways of dealing with the new knowledge in form of for example experimental art. There will be exhibitions of interactive and new media art works which arose from the artists' involvement in these themes.
The workshop within the frame of the conference will bring together media artists, scientists and critics as well as philosophers, who can discuss these topics further and bring about new ideas and inspiration.
For a detailed schedule of and registration for the conference,  visit the website: http://www.interactivefutures.ca/