July 25, 2013, The Future of Asia Series, Edition II : Identity and Culture, at Auditorium Annex, CSMVS Museum, Mumbai (India)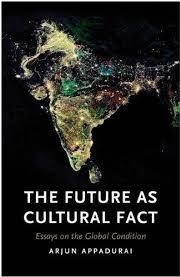 The conference is an exploration of how the politics of hope play out in differing fields – from the aspirations of India's poorest inhabitants, to the offices of urban planners and business people – to understand how the society can progress, creating an ethos of trust and find access to growth and justice. This program is organized in collaboration with the Asia Society India Center and Mohile Parikh Center which brings together a diverse group of speakers from across the world to explore the Future of Asia from a multidisciplinary perspective. Each speaker addresses this theme through a distinct lens provided from his discipline, offering unique insights into what can be expectations for Asia, and how can be shape a positive, sustainable future for the continent. In the current edition, speakers will explore the theme of Identity and Culture.
Arjun Appadurai is the Goddard Professor of Media, Culture, and Communication at New York University. He has authored numerous books and scholarly articles and has served as a consultant or advisor to a wide range of public and private organizations, UNESCO, UNDP and the World Bank.
Shaina Anand is a filmmaker and artist who has been working independently in film and video since 2001. In 2007 she co-founded CAMP, a collaborative studio that works on interrelated concerns and possibilities of art, technology, archives and the public sphere.
Ajit Balakrishnan is the Founder, Chairman and Chief Executive Officer of Rediff.com, a news, information, entertainment and shopping portal headquartered in Mumbai. He has written a book titled, The Wave Rider: A Chronicle of the Information Age, and writes a column for Business Standard.
Mick Gordon is the CEO of Ipsos India, a private research think-tank in the fields of media and advertising ranked as the world's third largest research agency.
Zarina Mehta is the Managing Trustee of Swades Foundation. Previously known as SHARE (Society to Heal Aid Restore Educate), Swades Foundation operates to empower rural India.
Sheela Patel is the Founder and Director of SPARC, an NGO that addresses the problems of women pavement dwellers in Mumbai and was a key figure in the building up of Mahila Milan, a decentralized network of collectives of women living on pavements and in slums in different parts of India.
Teesta Setalvad is an educationist, journalist and human rights activist. She co-edits Communalism Combat, heads and directs Education for a Plural India programme, and is Secretary of Citizens for Justice and Peace (CJP).
For more information about the event : click here