July 11 until August 19 in New York City by the School of Visual Arts
The six-week summer program "Reconfiguring Sites: New Approaches to Public Art and Architecture" highlights different areas that are currently manifest in public art: such as social intervention, new media technologies, interdisciplinary collaborations with architecture, ecological and environmental interventions, and performance.
Prominent figures working in these areas will discuss their practice and offer critiques of participants' work. In addition, resident artists will attend workshops that are designed specifically to learn the tools essential to working in the field of public art.
Through the workshops and the guidance of faculty and guest lecturers, interdisciplinary and collaborative teams will be encouraged and artists will develop and present a professional proposal. This program covers topics such as reading from the plan, grant proposal writing, contracts, funding for self-initiated projects and workshops in fabrication.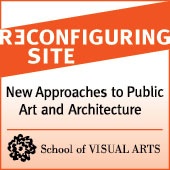 Taking full advantage of New York City's rich resources, participants will engage with leading artists, architects, landscape architects, curators and critics in the field. SVA's state-of-the-art digital sculpture facility offers the resources for experimenting with ideas in an environment conducive to creative exploration and supportive of logistical issues involved in public art pursuits. Sculpture facilities and facilities for working with custom electronics, high-end digital photography, video, 3D graphics and sound production equipment are available.
Current faculty and lecturers include: Herve-Armand Bechy, Mary Ellen Carroll, Charlotte Cohen, Eiko and Koma, Christina Ewing, Wendy Feuer, Anita Glesta, Deborah Gans, Marlina Gonzalez, Kendall Henry, Jonathan Lippincott, Tom Otterness, Lauren Ross, Harriet Senie, Meryl Taradash, Mierle Laderman Ukeles, Jerry Van Eyck and Krzysztof Wodiczko.
For more information about this program visit: reconfiguringsite.sva.edu.